---
News

Botany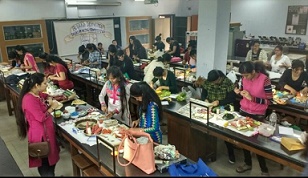 Botany is a discipline of Biology which deals with study of plants. Department of Botany at Gargi College was established in 1967 and is dedicated to teaching and research in all fields of plant biology. The department has well equipped laboratories like molecular biology and tissue culture lab (for conducting practical classes and research work), a museum (which hosts plant specimens) and a botanical garden. T h e   c o u r s e   s t r u c t u r e   c o m p l e m e n t s conventional branches of plant sciences with modern biology and comprises of class room lectures, laboratory practicals and field studies.
After completing their graduation, interested
students can opt for M.Sc.programin Botany,plantmolecularbiology,biotechnology,environmentetc., which can be further extended to M.Phil and Ph.Dprograms.TheDepartment also has fundingunder Star College Scheme and Bioinformatics InfrastructureFacility(BIF)fromDepartmentof Biotechnology, Ministry of Science and Technology. This enables students to carry out research projects along with their regular curriculum. Overtheyears, Botany Department has maintained highacademic standards and has produced many University Toppers. The department has an active Botanical society named "TARU", which organizes events like lectures by eminent scientists, workshops, institutional and industrial visits, paper presentation, collage making, salad making, quiz etc. Botany department also publishesane-magazinecalled"ANTHESIS" where students can explore their scientific writing skills.